<![if !vml]>
<![endif]>  <![if !vml]>
<![endif]>
<![if !vml]>
<![endif]>  <![if !vml]>
<![endif]>
<![if !vml]>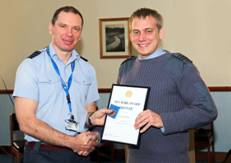 <![endif]>  <![if !vml]>
<![endif]>
<![if !vml]>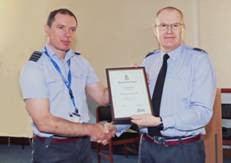 <![endif]>
The cadets in the RAF Air Cadets can receive many awards during their service however the organisation would not exist without the tireless hard work and dedication of its many volunteer staff some of whom go above and beyond the call of duty.
Like cadets, awards of achievement and recognition of service are presented to staff and a number of staff from Plymouth & Cornwall Wing have received awards in recognition for their service to the Air Training Corps and the RAF Air Cadets.
The awards were presented at the Wing Conference on Sunday held at RAF St Mawgan by the Regional Commandant for the South West, Group Captain Jason Chalk.
The first award was Certificate of Meritorious Service presented to Warrant Officer David Leng of 1387 (Liskeard) Squadron.
Also receiving a Certificates of Meritorious Service were the Wing IT and First Aid Officer, Warrant Officer Jason Grange, and the Wing Duke of Edinburgh Officer, Corporal John Oliver who is currently a regular in the Royal Air Force..
The Hummerstone Trophy is awarded to the staff member who has made the greatest contribution to the Wing in raising the profile of the RAF Air Cadets and the RAF, the trophy which is not awarded every year was presented to Flying Officer Dave Wilkinson who is the Officer in Charge of 2443 (Okehampton) Squadron.
Receiving recognition for ten years of dedication to the Ten Tors Challenge was the Wing Deputy Adventure Training Officer and Officer Commanding 2533 (Bodmin) Squadron, Flight Lieutenant George Blackborne.
Chair of 2174 (North Plymouth) Squadron's Civilian Committee and former Squadron Commander, Flight Lieutenant John Bewley (Rtd) was awarded his second clasp to the Cadet Forces Medal.
The final two presentations were made to the Wing's Officer Commanding, Wing Commander Francis Reis who received his third clasp to the Cadet Forces Medal following over 30 years services as a staff member in the RAF Air Cadets together with certificate of his New Year's Honour Award, the Air Officer Commanding 22 Group Commendation.