WING SEES CHANGE OF COMMAND  - posted 21-Jul-23
Friday 21st July 2023 sees a change of command for Plymouth & Cornwall Wing as Wing Commander Francis Reis, who has been the Officer Commanding the Wing for 12 years, hands over command to Wing Commander Peter Ward.
Wing Commander Reis started his career as an Air Cadet in 1972 when he joined 1225 (St Blazey) Detached Flight, now 169 (St Blazey) Squadron, which was part of then Cornwall Wing quickly becoming a keen shot with the .22 No.8 rifle as part of the skill at arms training which resulted in attaining a number of trophies.
In his first year, then Cadet Reis, attended camp at RAF Mount Batten, Plymouth which hosted a boat section which was used to deploy the cadets into Plymouth Sound before they clambered back into the dinghies. The cadets had so much fun they returned the following year but instead of having to clamber into the dinghies they were winched up into a search and rescue helicopter providing his first rotary wing experience.
Camps at RAF St Mawgan, Shawbury, Cosford and Locking followed as well as flights in Shackleton, Canberra, Chipmunk, Bulldog, Nimrod, Wessex, Gazelle, Tutor aircraft along with flights in Sedburgh T21, Cadet Slingsby T31, Vigilant and Viking gliders.
After reaching the rank of Cadet Sergeant and having attained his Gold in the Duke of Edinburgh Award Scheme, a career as a member of staff beckoned which started with becoming a Civilian Instructor before being commissioned in 1989 and being posted to 1225 (St Austell) Squadron before transferring to 2174 (Estover) Squadron in Plymouth the following year and to 2377 (Plympton) Squadron in 1991 to take on the role of Squadron Commander.
Then Flight Lieutenant Reis transferred to 197 (Devonport) Squadron in 2002 before becoming the Wing Media Communications Officer and being promoted to Squadron Leader with the additional roles of Sector Commander and Cadet & Staff Recruiting Officer.
In July 2011 Squadron Leader Reis was promoted to Wing Commander on taking over the command of Plymouth & Cornwall Wing serving three four year terms in post in which he has seen many changes and major events including the changing of commission from RAF Volunteer Reserve (Training) to RAF Air Cadets, the 75th anniversary of the Air Training Corps, which saw a baton relay from John O'Groats across the country before finishing at Land's End, and finishing with the National Armed Forces Day in Falmouth in June 2023 in which he was fundamental of overseeing the RAF Air Cadet involvement.
The role of Wing Commander sees many challenges and responsibilities not least the safety of the cadets and staff of the Wing and in 2020 Wing Commander Reis had the added challenge of the impact of the Covid-19 pandemic and overseeing the Wing engagement with the cadets and staff during the lockdown and then recovery to normal operations in the many activities the organisation offers.
In handing over to incoming Wing Commander Peter Ward it might be expected for the outgoing Wing Commander to hang up his uniform, but Wing Commander Reis plans like his two predecessors, ex-Wing Commander Mike Symons MBE and ex-Wing Commander Tim Johns OBE, to continue in the organisation and has been appointed as the Wing Support Officer, so the cadets and staff can expect to see ex-Wing Commander Reis at many Wing events as well as at Squadron parade evenings as part of his new role.
Incoming Wing Commander Peter Ward joined Plymouth & Cornwall Wing has served as a commissioned officer at 169 (St Blazey) and 77 (Redruth) Squadrons before serving as the Wing Fieldcraft Officer, the Sector Commander for West Cornwall and recently as the Deputy Wing Commander.
A qualified bronze and silver Duke of Edinburgh expedition assessor and also archery and fieldcraft instructor, Wing Commander Ward has been a regular face at many adventure training events.
The Wing wishes to thank outgoing Wing Commander for his commitment and leadership over the past 12 years and looks forward to seeing him at future activities.
<![if !vml]>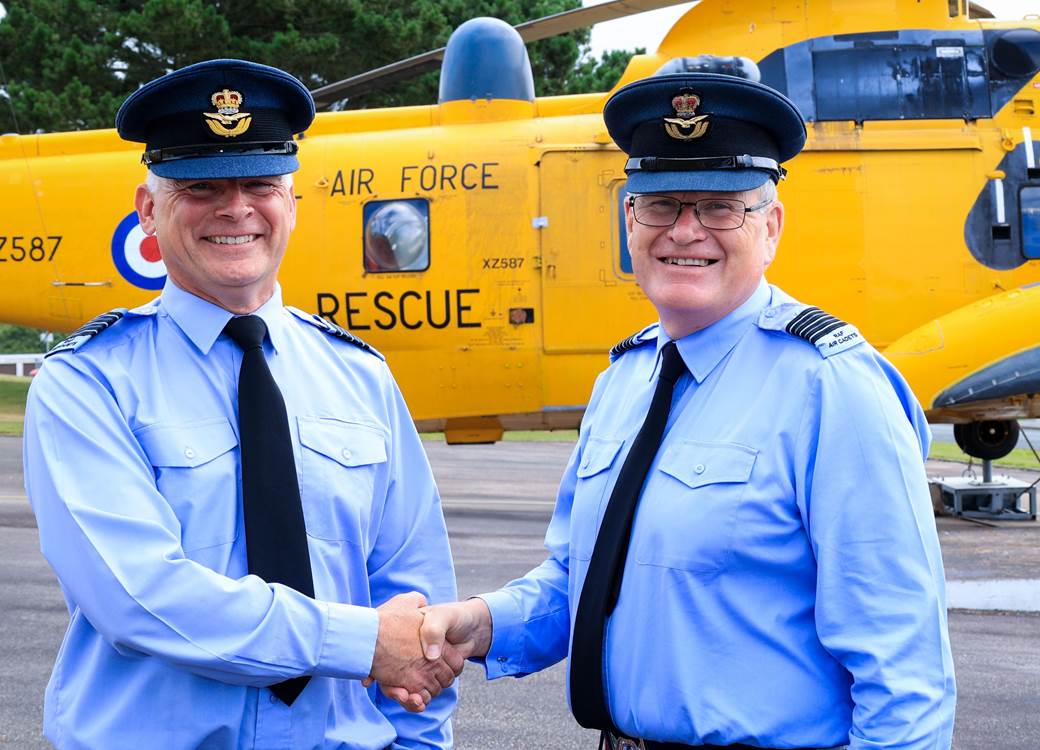 <![endif]>
Outgoing Wing Commander Francis Reis (above right) formally hands over command of Plymouth & Cornwall Wing to incoming Wing Commander Peter Ward (above left)
<![if !vml]>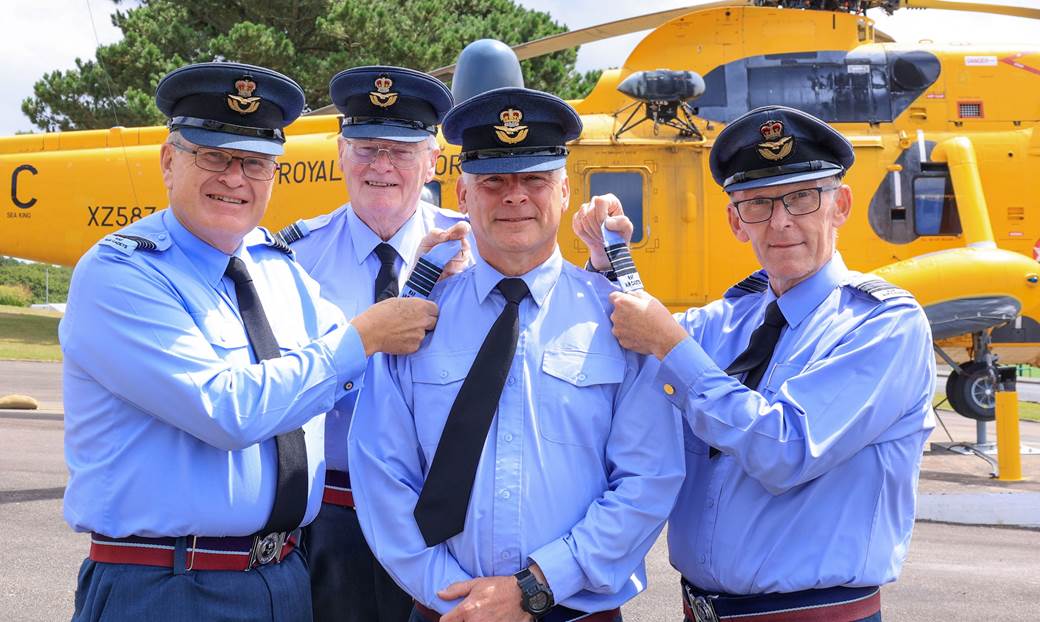 <![endif]>
Outgoing Wing Commander Reis is joined by two former Wing Commanders, Squadron Leader Tim Johns OBE (centre rear) and Squadron Leader Mike Symons MBE (right)