CAMPS
UK CAMPS
UK Camps are usually held at Easter, during the summer and Autumn. Each camp is one week in duration and is based on a Royal Air Force station.

Each camp is has a packed program of things to do. Visits to the different Sections based on the station allows cadets to see how the station operates. Cadets usually have the opportunity to have air experience flying and shoot on a range. Exercises to test navigational skills and initiative also play a key part in the programme. There will normally be some free time in the evenings to socialise with cadets from other squadrons.
As well as camps to RAF Stations, commitments by squadrons and detached flights such as assisting organisers of carnivals and similar events may involve camps at places other than RAF Stations. This may be done on a registered site or 'in the field'.
For 2016 Plymouth & Cornwall Wing are scheduled to attend camps at RAF Odiham, RAF Halton, RAF Henlow and RAF Cranwell.
OVERSEAS CAMPS
Overseas camps are open to cadets who have attended a UK camp, have reached Leading Cadet and 15 years. Overseas camps are based in Germany, Gibraltar and Cyprus. The RAF has for many years had stations in Germany with many first line units based there.
Despite the RAF having all but pulled out of Germany there are still camps in Germany which are ideal for first overseas camps.
Gibraltar Camp is based on the Royal Air Force station. It is necessary to have been to a UK camp and be a Leading Cadet before attending an overseas camp. The cost of the camp is higher than that of a UK camp due to the additional travel costs. Those cadets selected to attend the camp can expect to be doing most of the activities of a UK camp with the addition of some sightseeing around the peninsula.
Cyprus Camp is held at Royal Air Force Akrotiri in the Greek controlled section of Cyprus. Due to the distance involved travel to the camp is by air and therefore is more expensive that camps at UK and Gibraltar. Again it is necessary to have attended a UK camp and also be a Leading Cadet to qualify to attend Cyprus Camp. During the camp the program will be packed with activities that are found on UK camps as well as some sightseeing. RAF Akrotiri also has it's own beach so don't forget the sun cream. The sun can be strong even in April thus sun cream is an essential item. Cyprus camps are usually about 10 days in duration.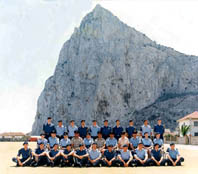 INTERNATIONAL AIR CADET EXCHANGE
IACE or International Air Cadet Exchange is a program that allows cadets from different countries as far as Australia to exchange with cadets from other countries including the UK. Cadets on exchange usually stay with a cadet's family from the host country. The exchange program means that cadets have the opportunity to visit countries where there is no RAF station.

The program has certain restrictions, check with a member of staff. During the exchange it is normal to visit units of the host country as well as having time for some sightseeing. The cost of the exchange depends on the location of the exchange but offers great value for money.